スポンサーリンク
Image citation site for this article:eiga.com
Hello everyone, it's Hama-sansu!
This time, I'd like to introduce
I like it:☆☆☆☆☆.
Recommendations:☆☆☆☆☆☆☆
Dog cuteness: ☆☆☆☆☆☆☆☆☆☆
(out of 10 stars)
スポンサーリンク
Keanu snapped!
Keanu Reeves, who wowed the world with "Speed" and "The Matrix," is back in full force!
When the mafia took everything from him, a retired, legendary hit man is out for revenge.
Unleash the murderous arts that have been sealed!
Keep an eye on that sharp action!
"John Wick" is an American action film released in 2014.
The film is Chad Staelski's directorial debut.
Starring Keanu Reeves, who you know.
Chad Staelski has worked as a coordinator for a number of films as well as a suitable tanto and stunt coordinator, and this film is no exception.
It's an action-packed film influenced by Japanese anime, sword fighting, martial arts, kung fu and macaroni and western.
The box office success of the sequel, "John Wick: Chapter 2" and its sequel, "John Wick: Parabellum
And even a sequel is in the works.

Information about John Wick's work
Release Date.
October 16, 20015.
running time (of a movie)
101 minutes.
Staff and Cast
director
Chad Staelski.
David Leach (uncredited).
screenplay
Derek Kolstad.
executive producer
Keanu Reeves.
performer
Keanu Reeves.
Mikael Nikvist.
Alfie Allen.
Adrian Palicki.
Bridget Moynahan.
Dean Winters.
Ian McShane.
John Leguizamo.
Willem Defoe.
Official Site
VOD available sites
Amazon

Synopsis of John Wick.
John Wick, once a legend in the underworld, meets the love of his life, Helen, and has walked away from the business.
John Wick has a peaceful marriage, but he loses his beloved wife, Helen, to illness.
John Wick is unable to find any hope of living, but Helen, worried about her surviving husband, has arranged for a cute puppy.
John Wick is healed by its presence and gradually regains the vitality of his life.
Just then, John's beloved Ford Mustang BOSS 429 is attacked by a mugger, and not only does he lose his beloved car, but also his dog's life.
Losing the irreplaceable again, John's heart is filled with a certain determination.
I'm going to make them pay for this…

John Wick's Highlights
You can't take your eyes off Keanu's crisp action here!
There are fights and gunfights, and it's great to see the blood pumping and moving!
I liked the flashy action in "The Matrix," but this one is more muddy.
The action has a sense of weight, and this one has a good taste.
In the movie, Keanu is injured so badly that it makes me frown as I watch.
The characters have their own quirks and habits, and it's cool to interact with them in a mature and stylish way.
The enemy characters are also hateful and good.
He's an asshole who can really sincerely hope that Keanu's revenge succeeds, so he's perfect for a scintillating action movie foe.
When you watch it, I recommend that you watch it with a lot of empathy for Keanu!

Spoiler impressions of John Wick.
Favorite place.
Willem Defoe is an insanely good guy!
It was really sad to see him die…..
He and John have been friends for a long time, and I thought he had betrayed me along the way, but he was the best friend who had saved John's life many times…
I really can't forgive that woman for tipping off the mafia boss about it! (Laughs)
It's also a shame that the black assassin who was watching the female assassin in the hotel was also a guy who could have done it, but he was killed so easily.
You've got to try harder! (Laughs)
Willem Defoe has a great villain face and there are usually many villains, so when he becomes a very good guy, I feel like rooting for him because of the gap.
The mafia boss should have just beaten his son when he got beaten up, but that's what happened because he kept doing things that struck John's nerves.
However, I was surprised that the boss himself had the courage to get into a physical battle at the end.
It's true, there have been occasions where I've used iron fist sanctions all this time, but I was pretty confident in my punches.
Also, all the dogs are too cute!
I'm sure all the dog lovers were rooting for Keanu with all their might.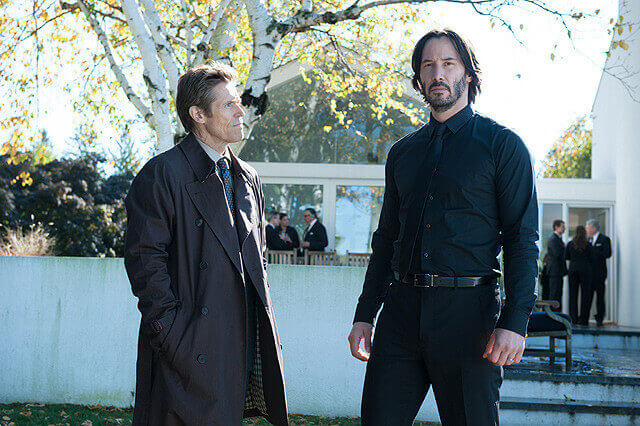 something that bothered me
In the end, the film ends with a dog being taken out of a place that looks like a health center, but it's a bit puzzling why they chose that dog.
There were plenty of dogs in other cages, so why did they choose him?
I thought I was going to end up taking all the dogs and being dragged by a bunch of them (laughs).
I can't help but think about the dogs that are left behind.
Or, you couldn't just stumble upon a stray dog and take it home with you?
Well, I'll leave the amateur's poor thinking to this.

Respect.
I think there are people who sometimes put aspersions on people's hobbies and values and say, "It's just something.
You don't need to listen to these people at all.
There is no such thing as a good person who disregards other people's values.
This movie proves the end result of those who get into people's hearts with their feet.
Let's be careful not to become such a person ourselves.
And let's live our lives with our values.

That's what "respect" is all about.
So I'll see you all soon!